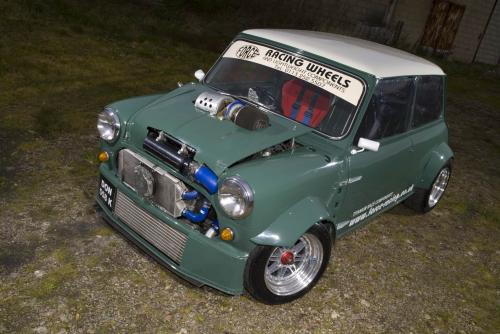 The Don
Well after a good couple of years of development, the time has come to part with the Don. This car is fitted with virtually the full Force Racing catalogue of lightweight Titanium components. The car set new ground for turbo charging power outputs for A series engine, coupled to its featherweight construction also set new records for speed and time over the ubiqutous 1/4 mile here in the UK. The full spec is as below, but as it is so vast I'm sure we have forgotten to add something. But one thing is clear, no stone was left unturned in the quest to turn this car into the lightest, quickest, turbo charged A series mini in the world today. It really is an animal.
The Engine:
1293, [ plus .020"].
fully worked A plus crank, wedged, knife edged, crossdrilled, backdrilled .complete surface polished , then hardened HD shell bearings.
fully worked A + rods, 595 gms, ARP bolts,
Minispares fully floating Mega pistons, machined for extra dish, 8.5:1 CR
Centre main strap. Using special high strength bolts,
Lightweight oil pump jack shaft and gears.
Piston Undercrown oil jets
Pressure fed thrust lubrication
Aluminium flywheel [5.5 lbs] unspecified friction surface
Titanium backplate [2 lbs]
AP sintered friction plate, modified clamp pressure
AP grey cover. Titanium thrust washer
Titanium clutch arm, plunger and push rod.
Billet aluminum slave clyninder/ alluminium plunger / twin seal
New master cylinder
4 off rose jointed engine steadies to ensure no movement
50 amp Nippon Denso alternator,
Brise lightweight high torque starter motor [the more expensive of the two available]
Power- 220 hp at 1 bar boost pressure at 7000 rpm, 184lbft torque at 6000 rpm (flywheel figures)
[measured and mapped at Emerald]
Emerald K3 engine management, staged boost control
Highpower nitrous oxide system, 2 lbs nitrous bottle, highflow bottle valve

KAD small valve long case cyl head, L14 cams, dry decked with tubular titanium water ports, using a Farriday Engineering copper fire ring head gasket [the best available]
Turned down oil pump jackshaft.
Bespoke in house inlet plenum and intercooler, Samco hoses throughout
Bespoke turbo manifold made in house, coupled to in house carbon stainless exhaust system with external screamer pipe.
Turbo, New T25 [new when engine built ] 500 miles max
Large FMIC, made in house using a pace core .
Cooling
Large FM aluminium radiator, ECU controlled electric fan, aluminum swirl pot, Bosch electric water pump
Gearbox
Jack Knight involute dog engagement gearkit. 900 miles from new
Salisbury plate type LSD 3.9 semi helical cwp
Central oil pickup.
SC timken roller bearing transfer gears 1:1 ratio Titanium hardy spicer outputs
Internal mounted gear change housing, precision UJ's, Titanium selector rod to gearbox.
[adjustable] aluminium gearstick/knob
Front Suspension
Titanium Driveshafts, lightened outer CV joints, In house
Titanium centrelock wheel system
Titanium front tubular subframe, adjustable pickup points inboard
Ttitanium adjustable on car bottom and top arms.
Titanium uprights /hubs, spherical bearing mounted, roller bearings
Titanium drive flanges
Aluminium disk bells/lightweight disks
Aluminium alloy parrallel plate steering arms.
Aluminium track rod ends.
Spax G 916 rod end fitting dampers mounted on lightweight aluminum brackets. 200lb springs.
Rear Suspension
Fabricated rod end mount Aluminium swing arms, direct mounted to chassis with titanium brackets
Billet Aluminium rear hubs with taper roller bearings, Kawasaki KH125 calipers, 7" stainless disks, sintered pads.
Titanium/aluminium alloy centre lock system.
Spax G 916 dampers, 150 lb spring rate.
Rear strut brace [steel]
Titanium hydraulic handbrake setup. Line lock, rear adjustable bias valve, Aeroquip brake and clutch lines throughout.
Rear GRP fenced diffuser.
Fuel System
2 gallon boot mounted alloy cell, with swirl pot
pre pump filter, Cosworth Bosch fuel pump
Body
GRP boot lid
GRP doors
GRP removable front end
GRP bonnet
Boot floor removed and inner arches relieved for damper clearance
Rear seat base and rear bins removed
6 point rollcentre roll cage
Motordrive clubman seat, Willans 4 point harness /Mountney 14" steering wheel
Wheels
Comes with a choice of a new set of wheels from our range, either 13" or 10" dia, any colour and width.
Weight, complete with 6 point rollcage, just under 490 kgs
Performance
Best times
Using nitrous 25hp shot
0- 102.9 mph in 7.22 seconds seconds. 1/8 mile on slicks 124.5mph in 11.12 secs in ¼ mile
No nitrous
Best ¼ mile 11.80s, at 116 mph on slicks
Previous hillclimb history from the 1990's Marque sport and touring car up to 1400cc class, record holder at Baitings Dam hillclimb, 29.99s, one of only three tin top saloons to break the 30 sec barrier. Marque sport and touring car up to 1400cc class, record holder at Three Sisters sprint at 50.49s. We are prepared to arrange overseas shipping if the need arises. Also we will consider breaking this car if enough interest is received, but it would be a great shame to do so. Price £17,000, but we are willing to talk to any seriously interested parties. As you can see this is a very serious car, and therefore we would appreciate only serious enquiries.