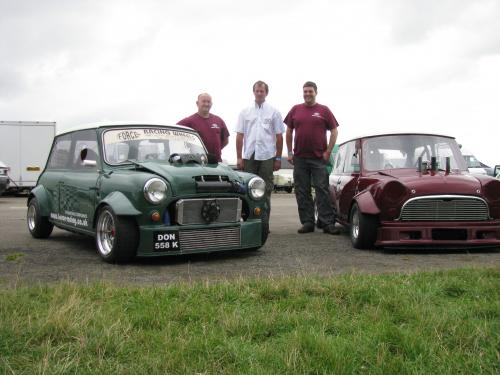 Over the weekend of the 11th and 12th of July Force Racing made our way to Shakespeare County Raceway for the annual British Mini Showdown event.
With weather looking variable on the Saturday at one point it looked like no cars would run at all, however towards the early afternoon things picked up and so we performed a couple of runs in the DON, with a 13.3 shake down run, followed by a 12.76 run.
On the Sunday again the weather did not look promising, but we were able to run both cars. The DON ran a series of 12.7 runs, with a final run of 12.68. Unfortunately this was pipped by Nic Rizzardini who was able to post a 12.63 time, a personal best for him, and sufficient to collect the Class D honours for 2009, so well done to Nic.
The Twinnie went out to perform a shakedown run on Sunday morning, all did not feel right resulting in aborting the run, on pulling the plugs out we discovered electrodes melted on cyl 2 and 3. Another run tried resulting in the same thing, so the car was parked up and the engine will be stripped for inspection.
All in all a better weekend for beer than for racing!