Mini In The Park 2010 report - new record set!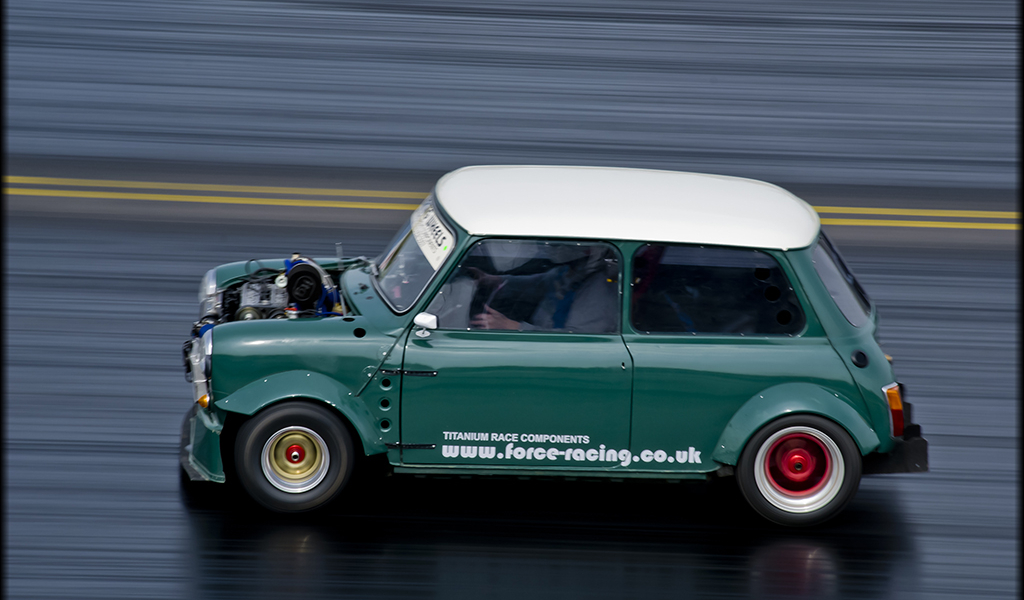 With a month since the showdown, we removed the head off the DON to assess the apparent head gasket failure. With this done it appeared that the misfire felt by Tom was actually due to a coil pack failing, so we are happy to report the head is still in perfect working order.
We have taken the precaution to fit a boot mounted radiator to water cool the turbo core, and this appears to be helping control heat soak into the head, along with heatshield mica exhaust manifold gaskets.
We also ran the car up to race temperature on the Saturday afternoon and retorqued the head studs to ensure any settle was removed.
We knew from studying the timing slips from the showdown, that we had an 11.5 sec pass in the car somewhere, it just needed stringing together by Tom.
So onto the important part, the runs.
Run 1- Tom made a good aggressive pass that looked drama free, and to the teams surprise sat on the grandstand, the clock stopped at 11.500. That'll do nicely thank you!
Run 2- With a quiet word about a more aggressive burn out, Tom did his best to oblige.
With a good clean exit from the blocks and the tyres crying in protest, he pulled a magical 1.67sec 60ft, through the 1/8 arrow straight in 7.2 secs at 103 mph, and onto an unheard and almost unbelievable new record time of 11.12 @124.4mph. Even more suprising because as witnessed by many, it was one of the most undramatic runs they had seen the car pass, which is a true testament to the power and setup of the car.
We decided to rest the car as we could see no way on improving on this time without more power, [which we have lots of in store] but would also need a re think on tyres which we could do nothing about on the day.
Our thanks go out to Trevor and his team at Wizards of NOS for their continued support and backing.
Well Done Tom, on another faultless drive.
(Photo courtesy of Nick Shaw)